REGISTER NOW
VCC Medical Assistant with Phlebotomy program prepares you with the skills to work in different areas of a hospital settings or physician's office managing the administrative and clinical aspects. EKG technician assists doctors in performing cardiovascular exams on patients, overseeing, administering, analyzing, and recording tests that require special EKG equipment. Phlebotomy technician works in a hospital, diagnostic, or a blood donor environment. Drawing blood, evaluating patients' ability to withstand procedure, basic point of care testing. Lectures include professional behavior and responsibilities in patient care settings. According to the Bureau of Labor Statistics Standard Occupational Classification Code (SOC 31-9092), (SOC 29-2031), and (SOC 31-9097). Employment of healthcare occupation is projected to grow 14 percent from 2018-2028. The program consists of 485 hours and clinical of 160 hours. Phlebotomy Technician 80 hours of practical clinical Laboratory setting. Total clock hours of 645. Upon successful completion of the course with the appropriate number of hours required, with 10 skin punctures and 50 venipunctures in the clinical setting, in addition to a cumulative grade point of B (80%) in the midterm and final exam. Student will be awarded certificate of completion and will be qualified to apply for the Clinical Medical Assistant (CCMA) EKG Technician (CET), and Phlebotomy Technician (CPT) examination through the National Healthcare Association (NHA)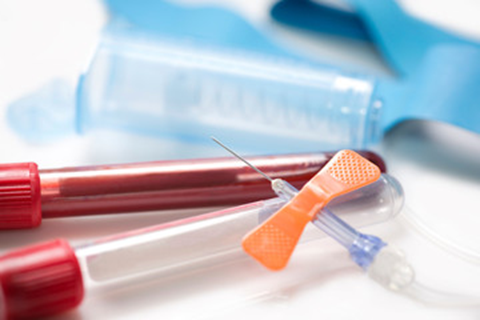 Program is designed to lead to the positions in a profession as a:
MA, Medical Assistant, CMA, MAA, Billing and Coding Specialist, Biller, Coder, Front Office Medical Assistant, CMA, Clinical Medical Assistant, Back Office Medical Assistant, Chiropractic Assistant, Orthopedic Cast Specialist, Morgue Attendant, CPT 1, Phlebotomist, Phlebotomy Technician, Venipuncturist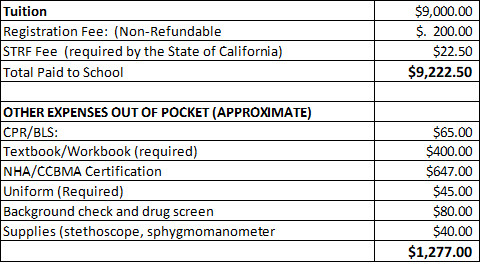 General Admission Requirements:
Obtain and read the Vasco Career College catalog, Performance Fact Sheet, and select the program of interest
Copy of High School Diploma/ Equivalent
Applicant must be 18 years or older
Valid Identification Card, Driver's License/ State I. D, Social Security Number
Live Scan
Health Assessment, Immunization requirements and Drug Screen
Current CPR/BLS Certificate (American Heart Association)
Complete an enrollment agreement and registration
Pass English and Math Assessment Test
Payment of tuition
Purchase textbooks, supplies
Orientation
The School Catalog is provided to Prospective Student and any interested Individual on campus. They are also informed that the catalog can be obtain from the school's website and are encouraged to read prior to signing an enrollment agreement.
TOTAL CHARGES FOR THE CURRENT PERIOD OF ATTENDANCE: $9,000.00 ESTIMATED TOTAL CHARGES FOR THE INTIRE EDUCATIONAL PROGRAM: $ 10,499.50
THE TOTAL CHARGES THE STUDENT IS OBLIGATED TO PAY UPON ENROLLMENT: $2,624.88
THE INSTITUTION DOES NOT PARTICIPATE IN FEDERAL AND STATE FINANCIAL AID PROGRAMS. IF YOU OBTAIN A STUDENT LOAN, YOU ARE RESPONSIBLE FOR REPAYING THE LOAN AMOUNT PLUS ANY INTEREST LESS THE AMOUNT OF ANY REFUND.
Students must provide proof of immunity for the following before clinical:
BLS certification
Background and drug screening
Diphtheria/Tetanus (DT) immunization within the last 10 years
MMR titer or second dose
Hepatitis B or signed waiver to refuse
Tuberculin skin test and appropriate follow-up or alternative chest x-ray within the last year
Varicella immunity(titer)